Three-toed sloth
Three-toed sloth Introduction
The Three-toed sloth is a family of four species of sloths that have 3 toes.  The four living species of three-toed sloths are the brown-throated sloth, the maned sloth, the pale-throated sloth, and the pygmy three-toed sloth. Sloths are identified by the number of long, prominent claws that they have on each front foot. There are both two-toed and three-toed sloths. All sloths are built for life in the treetops. They spend nearly all of their time aloft, hanging from branches with a powerful grip aided by their long claws. Sloths even sleep in trees, and they sleep a lot—some 15 to 20 hours every day. Even when awake they often remain motionless. At night they eat leaves, shoots, and fruit from the trees and get almost all of their water from juicy plants. Sloths mate and give birth while hanging in the trees. Three-toed sloth babies are often seen clinging to their mothers—they travel by hanging on to them for the first nine months of their lives. On land, sloths' weak hind legs provide no power and their long claws are a hindrance. They must dig into the earth with their front claws and use their strong front legs to pull themselves along, dragging their bellies across the ground. If caught on land, these animals have no chance to evade predators, such as big cats, and must try to defend themselves by clawing and biting. Though they couldn't be clumsier on land, sloths are surprisingly good swimmers. They sometimes fall directly from rain forest trees into rivers and stroke efficiently with their long arms.
Keywords to learn
Hind: (especially of a bodily part) situated at the back; posterior
Aloft: up in or into the air; overhead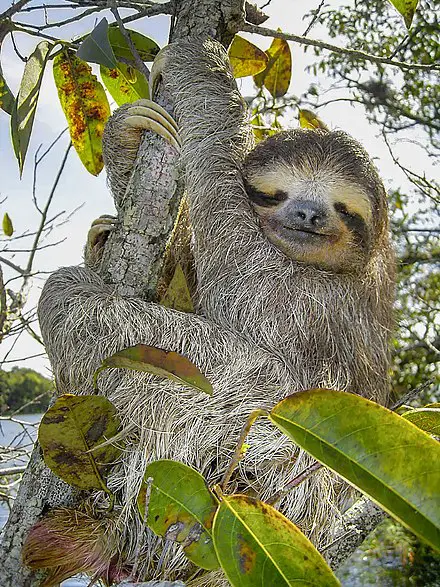 Key Data
Order:

Pilosa.

Lifespan:

25-40 years.

Class:

Mammalia.

Scientific name:

Mass:

4.5-6kg (10-13lbs).

Length:

50-70cm (20-28in).

Region Found:

Central and South American.

Population Status:

Current population trend:

Diet:

Omnivorous..

Sexual maturity:

three to five years.
As you have learned, the Three-toed sloth is the slowest mammal in the world. The sloth kinda just sits around, sleeps and eats all day. The sloth must be a lot of peoples spirit animal 🙂
Now that you know more about the Three-toed sloth by learning the key data above, be sure to also to check out the fun facts. When you are finished learning the facts, try answering the questions in the Q&A corner on the bottom right side of the page.
Download questions about the Three-toed sloth here: Three Toed Sloth (answers are on this page)
Teachers. For more in depth work sheets on the Sloth. Click on Kidskonnect. Worksheets
Three-toed sloth Fun Facts for Kids
# 1.  The sloth is the 3rd slowest animal behind coral and the garden snail.

# 2. Dead sloths have been known to retain their grip and remain suspended from a branch.

# 3. Sloths move slowly due to their extremely slow metabolic rate.

# 4. Sloths come out of the treetops only once per week to relieve themselves, which is actually extremely dangerous for them and sometimes fatal!

# 5. Ancient giant sloths, called Megatherium, were the size of modern elephants.
Q&A Corner
# 1. How many hours does a sloth sleep a day?

# 2. What is the average length of the Three-toe sloth?

# 3. What class does the Three-toed sloth belong to?

# 4.

Why do sloths move so slow?

# 5. How big were ancient sloths?