Giant African Land Snail
Giant African Land Snail Introduction
Lissachatina Fulica is a species of large land snail that belongs in the family Achatinidae. It is also known as the Giant African Snail or Giant African land Snail. This snail species has been considered a significant cause of pest issues around the world.
Internationally, it is the most frequently occurring invasive species of snail. Outside of its native range, this snail thrives in many types of habitat in areas with mild climates. It feeds voraciously and is a vector for plant pathogens, causing severe damage to agricultural crops and native plants. This snail is listed as one of the top 100 invasive species in the world.
The species is native to East Africa, but it has been widely introduced to other parts of the world through the pet trade, as a food resource, and by accidental introduction. The adult snail is around 7 centimetres (2.8 in) in height and 20 centimetres (7.9 in) or more in length. The Giant African Snail is a herbivore and eats a wide range of plant material, fruit, and vegetables. It will sometimes eat sand, very small stones, bones from carcasses and even concrete as calcium sources for its shell.
In rare instances the snails will consume each other. In captivity, this species can be fed on a wide range of fruit and vegetables, plain unseasoned mince or boiled egg. They can also occasionally be fed cuttlefish bone, which is commonly used as a calcium source for healthy shell growth. It requires about 18.28% of crude protein in its diet for optimal growth.
Keywords to learn
Vector = An organism that transmits a disease or parasite from one animal or plant to another
Pathogens = A bacterium, virus or other microorganisms that can cause disease
Conical = Having the shape of a cone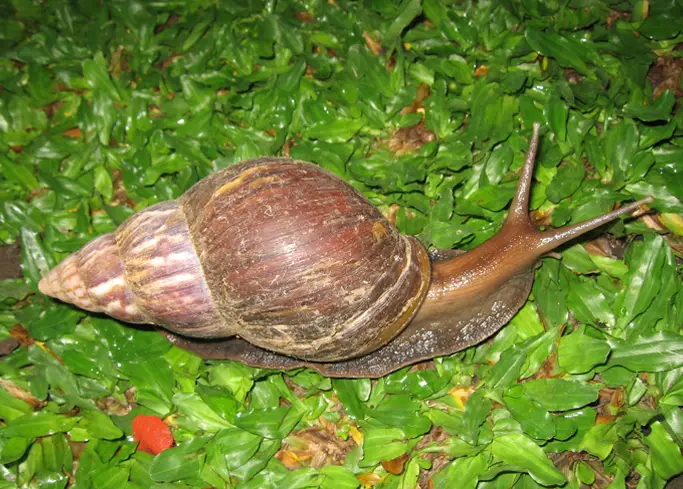 About Me
Hey Kids, my name is Gina the Giant African Land Snail and I am very happy to meet you. Learn more about me and my species @ www.kids.nationalgeographic.com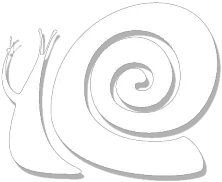 Key Data
Order:

Stylommatophora.

Lifespan:

5-10 years.

Class:

Gastropoda.

Scientific Name:

Lissachatina Fulica.

Mass:

31g (1 ounce).

Length:

19.8cm(7.8in).

Region found:

Native to forests of east Africa.

Population Status:

Least concern.

Current population trend:

Increasing.

Diet:

Herbivorous.

Sexual maturity:

6-16 months.
The Giant African Land Snail is a weird creepy crawly, but also quite a wonderful creature. Some people like snails and some do not. Some people like snails so much that they eat them. Especially the French! Now that you know more about this type of snail by learning the key data above, be sure also to check out the fun facts. When you are finished learning the facts, try answering the questions in the Q&A corner on the bottom right side of the page.
Download questions about the Giant African Land Snail here: Giant African Land Snail (answers are on this page)
Giant African Land Snail Fun Facts for Kids
# 1. Giant African Land Snails are illegal in the US because of their extreme invasive tendencies.
# 2. It is known to eat at least 500 different species of plants.
# 3. The shell of the Giant African Land Snail is conical and narrow, with 7 to 9 spirals visible on its surface. The color is not always the same; it depends on the environmental conditions of the site where the snail dwells.
# 4. An important part of the anatomy of this snail is a structure in the mouth similar to a tongue, which is called the radula. It has small teeth that allow snails to scrap the food before eating it.
# 5. The shell is the location where the Giant African Land Snail takes refuge from predators. They will also spend time inside of their shells when the temperatures begin to dip too low at night for their comfort.
Q&A Corner
# 1. What class does the Giant African Land Snail belong to?
# 2. How long do Giant African Land Snails live for?
# 3. Where and why are Giant African Land Snail's illegal?
# 4. What is the structure in the snails mouth similar to a tongue called?
# 5. When and why do snails go into their shells?