Fruit Bat
Fruit Bat Introduction
Fruit bats, sometimes called flying foxes, are mammals that live in many warm parts of the world. They range from small bats, just 2 inches in length, to very large bats with a wingspan of 5 feet. While other bats are nocturnal, fruit bats can be seen during the day and night.
People sometimes think bats are scary or dangerous because they suck blood like Dracula. Fruit bats do not suck blood but they can carry diseases that can make people sick. They make a mess under fruit trees and they sometimes enter people's attics. Fruit bats avoid humans and are a very important part of ecosystems. They pollinate flowers, allowing fruit to grow, and they spread seeds throughout rainforests and jungles, dropping the seeds in their poop.
Some species gather in large colonies to roost during the day. These colonies might have one male who protects the females, a bunch of single males, or females caring for their young. In other species, one male and female couple stay together.
Keywords to learn
Nocturnal: An animal that is awake at night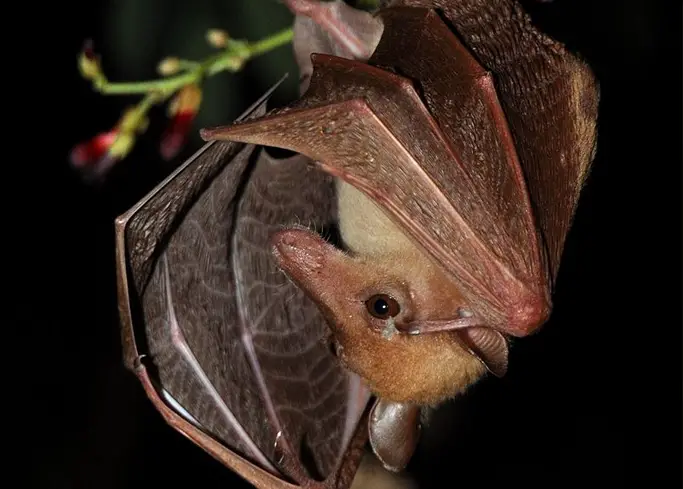 Key Data
Order:

Chiroptera.

Lifespan:

4 years.

Class:

Mammalia.

Scientific name:

Pteropodidae.

Mass:

2 oz. to 2 lbs.

Length:

2 inches to 2 feet.

Region Found:

South America, Pacific Islands, and other warm climates throughout the world.

Population Status:

Some populations are threatened.

Current population trend:

Threatened.

Diet:

Fruit, nectar, pollen, and leaves.

Sexual maturity:

6 months to 1 year.
As you have just learned, fruit bats are known for their fruit diet, and while not generally aggressive or dangerous, they can be if approached when injured and can carry viruses like the Coronavirus that causes diseases like COVID-19.  
Now that you know more about the fruit bat by learning the key data above, be sure also to check out the fun facts. When you are finished learning the facts, try answering the questions in the Q&A corner on the bottom right side of the page.
Download questions about the horseshoe bat here: Fruit Bat (answers are on this page)
Teachers. For more in depth work sheets on microbats. Click on Kidskonnect Worksheets
Fruit Bat Fun Facts for Kids
#1. Fruit bats are excellent mothers. Pregnancy lasts about 5 months and mothers care for the babies until they are well into adulthood. Babies cling to their mothers during flights to hunt for food.
#2. Fruit bats consume nectar, pollen, leaves, and stems in addition to fruit. They take mouthfuls of fruit, sucking on it to remove the juices before spitting the fruit out.
#3. Fruit bats have sharp teeth for biting fruit and very long tongues to suck out the juices. Their tongues roll back into their bodies when not in use.
#4. Fruit bats' large eyes give them the best eyesight of any bat. They also use their sense of smell to find food.
#5. Because they eat only fruit, they tend to live in warm climates where fruit grows most of the year. They sometimes have to fly long distances to find food.
Q&A Corner
# 1. What do fruit bats eat?
# 2. Are fruit bats dangerous?
# 3. Where do fruit bats live?
# 4. Are fruit bats birds?
# 5. Are fruit bats nocturnal?