Brown Recluse Spider
Brown Recluse Spider Introduction
The brown recluse (Loxosceles reclusa) Is a recluse spider known infamous for its necrotic venom. The most telltale characteristic of brown recluse spiders is the presence of a dark, violin-shaped mark on the dorsum of the arachnid's light brown or yellowish-brown cephalothorax. The neck of this distinct violin pattern is directed toward the abdomen. Due to this marking, brown recluses are also commonly known as fiddle-back spiders. Baby brown recluse spiders do not have this distinctive marking. It develops as the spiders grow into adulthood. To positively identify a spider as a recluse, both the eyes and fiddle marking must be seen, since other spiders may possess one or the other characteristic alone. Like many spiders, the brown recluse spider likes to stay secluded in dark corners of places that are rarely disturbed or cleaned. Inside locations such as voids between and under kitchen cabinets, storage areas and basements inside houses can provide plenty of areas for these insects to hide. Outside these spiders may inhabit sheds, barns and garages and may unknowingly be brought inside a home when moving stored items inside. Brown recluse spiders build asymmetrical (irregular) webs that frequently include a shelter consisting of disorderly thread. Human-recluse contact often occurs when such isolated spaces are disturbed and the spider feels threatened. Unlike most web weavers, they leave these lairs at night to hunt. Males move around more when hunting than the females, which tend to remain nearer to their webs.
Keywords to learn
Necrosis: Necrosis is the death of body tissue. It occurs when too little blood flows to the tissue. This can be from injury, radiation, or chemicals. Necrosis cannot be reversed. When large areas of tissue die due to a lack of blood supply, the condition is called gangrene.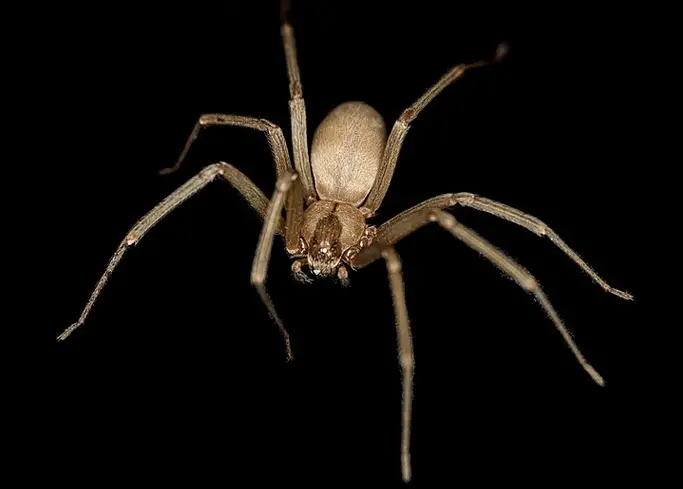 Key Data
Order:

Araneae.

Lifespan:

1-2 years.

Class:

Arachnida.

Scientific name:

Loxosceles reclusa.

Mass:

5+ grams.

Length:

6–20 mm (1/4 in and 3/4 in), but may grow larger.

Region Found:

Population Status:

Least concern.

Current population trend:

Stable.

Diet:

Carnivorous.

Sexual maturity:

6-12 months.
Brown recluse spiders are not aggressive, and only bite when they are provoked. Brown recluses have potent venom that can kill. Be very careful.
Now that you know more about the Brown recluse spider by learning the key data above, be sure to also to check out the fun facts. When you are finished learning the facts, try answering the questions in the Q&A corner on the bottom right side of the page.
Download questions about the Brown recluse spider here: Brown Recluse Spider (answers are on this page)
Bold Jumping Spider Fun Facts for Kids
# 1. Each female Brown recluse produces several egg sacs over a period of two to three months, from May to July, with approximately fifty eggs in each sac. The eggs hatch in about one month. The spiderlings take about one year to grow to adulthood.
# 2. The Brown recluse spider is resilient and can tolerate up to six months of extreme drought and scarcity or absence of food. On one occasion, a brown recluse survived in controlled captivity for over five seasons without any food at all.
# 3. Frequently, the bite is not initially felt and may not be immediately painful, but it can be serious. The brown recluse bears a potentially deadly hemotoxic venom. Most bites are minor with no necrosis. However, a small number of brown recluse bites do produce severe dermonecrotic lesions (i.e. necrosis).
# 4. In 2001, more than 2,000 brown recluse spiders were removed from a heavily infested home in Kansas, yet the four residents who had lived there for years were never harmed by the spiders, despite many encounters with them. The spider usually bites only when pressed against the skin, such as when tangled within clothes, shoes, towels, bedding, inside work gloves, etc.
# 5. Brown recluse bites usually become painful and itchy within 2 to 8 hours. Pain and other local effects worsen 12 to 36 hours after the bite, and the necrosis develops over the next few days. Over time, the wound may grow to as large as 25 cm (10 inches). The damaged tissue becomes gangrenous and eventually sloughs away.
Q&A Corner
# 1. What is the Brown recluse spider famous for?
# 2. What order does the Brown recluse belong to?
# 3. What age is the sexual maturity of the Brown recluse?
# 4. How many eggs are in a Brown recluse spider sac?
# 5. How many Brown recluses were found in a home in Kansas in 2001?